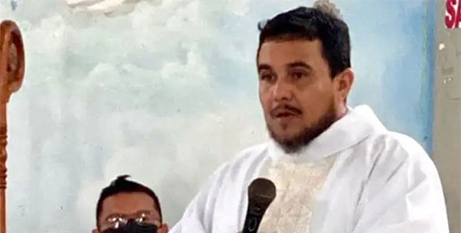 A priest has been sentenced to 10 years in prison for the alleged crimes of "conspiracy" and "spreading fake news" to the detriment of the Nicaraguan President Daniel Ortega's dictatorship. Source: CNA
The news site Despacho 505 obtained access to the closed-doors verdict and reported on February 4 that the Tenth Criminal Trial District Court of Managua had sentenced the priest on January 24.
According to the ruling, after a trial riddled with irregularities, the priest was given five years in prison for the crime of "spreading fake news" and another five for "undermining national security and sovereignty."
In addition, the Catholic priest was fined 49,917 córdobas (about $A2000).
Fr Benavidez, 50, known for being a critic of the dictatorship, has been in custody since August 14, 2022, when he was arrested after celebrating a Mass in the Conception of Mary chapel in the Diocese of Siuna.
He was found guilty on January 16 and the state prosecution requested a sentence of eight years in prison. However, the court sentenced him to 10 years.
Despacho 505 noted that Fr Benavidez is the first priest sentenced for "conspiracy and cybercrimes, crimes invented by the regime of Daniel Ortega and [his wife, Vice President] Rosario Murillo to imprison opponents."
According to the priest's defence, during the trial the alleged "crime" he committed was expressing his opinion in a social media post.
In total there are nine Nicaraguan clergy that the dictatorship has accused of the crime of "conspiracy," including Bishop Rolando Álvarez, who was arrested along with other priests on August 19, 2022.
FULL STORY
Dictatorship in Nicaragua sentences priest critical of the regime to 10 years in prison (CNA)