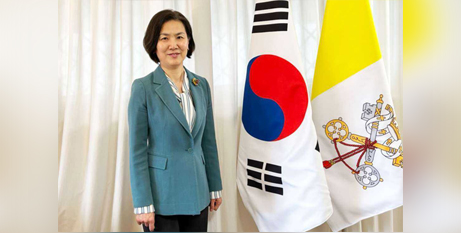 South Korea's newly appointed ambassador to the Holy See has reiterated the nation's commitment to hold peace talks with North Korea aimed at reconciliation and unification in the Korean Peninsula. Source: UCA News.
"We will cooperate with the Holy See to resolve global issues and achieve peace on the Korean Peninsula," said Oh Hyun-Joo, the first Catholic woman appointed as South Korea's ambassador to the Holy See.
Ms Oh said that the Korean government aims to support Pope Francis' desire to bring peace to the region, the Catholic Times reported on February 3.
"The Korean government is well aware of the Pope's interest in the Korean Peninsula … If possible, we would like to actively support it," Ms Oh said.
Peace talks between North and South Korea have been an ongoing process and the reconciliation of both nations has been a major pastoral issue for the Catholic Church in Korea.
"This year marks the 60th anniversary of diplomatic relations between Korea and the Holy See. We want to provide a driving force to advance bilateral relations to the next level by carrying out cooperative projects," Ms Oh said.
She added that "we [South Korea] also want to act as a bridge so that anyone interested in the role of the Holy See in world peace, protection of human rights, reconciliation and dialogue between religions can come closer."
The South Korean government established the Ministry of Unification on March 1, 1969, to oversee inter-Korean relations and unification.
The ministry reflects the unique reality of the Korean Peninsula, which remains divided since the end of the Korean War.
Earlier this month, in a meeting with Unification Minister Lee In-young, Archbishop Peter Chung Soon-taick of Seoul appealed to the South Korean government to make concrete efforts for peace on the Korean Peninsula.
FULL STORY
New Korean envoy to Vatican reaffirms peace efforts (UCA News)