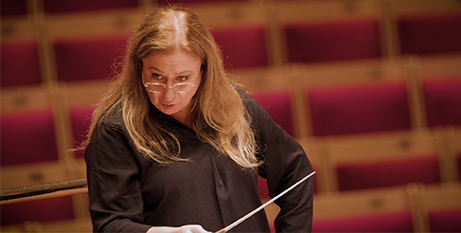 Knowing the Score is a documentary portrait of Australia's Simone Young, an international orchestra conductor who broke the glass ceiling in terms of women conductors. Source: Jesuit Media.
It is said that life was not meant to be easy and Young's career path was not always an easy road.
The title is ironically enjoyable –Young has a pitch-perfect ear and associates colours with the notes she hears. She has a detailed knowledge of many scores and operas. Her appreciation of techniques and sensitivities in performance are extensively treated in this interesting and entertaining documentary. But, with hard experiences at home and abroad, especially her 2001 sacking in Sydney, experience has taught her to know the score.
Audiences who have seen Cate Blanchett as the fictional conductor Lydia Tar, found that the world of orchestras and, especially, conductors, was opened up in more detail than they might have imagined. Tar was a version of enormous talent, complicated personal life, demonstration of abilities and exercise of power. To that extent, the life of Young is something of a relief.
By the end of the film, we have a satisfying biography of Young and her call back to Sydney as conductor of the Sydney Symphony Orchestra – a fulfilment of her dreams to conduct at the Sydney Opera House that she had passed countless times on the ferry from Manly where she was raised.
For opera lovers, the documentary is interspersed with numerous musical interludes.
Review by Peter W Sheehan, Jesuit Media
Knowing The Score: Starring Simone Young. Directed by Janine Hosking. 89 minutes. Rated PG (Infrequent mild coarse language).
FULL REVIEW
Knowing the Score (Jesuit Media via Australian Catholics)