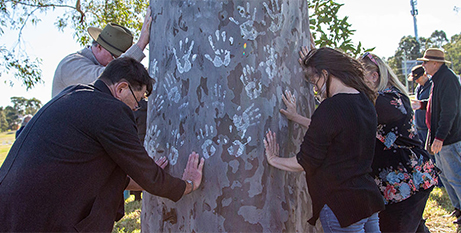 Today's 15th anniversary of the National Apology to the Stolen Generations will help frame the conversation about the Indigenous Voice to Parliament referendum, writes Fr Andrew Hamilton SJ. Source: Catholic Outlook.
The content and the shape of the apology are a proper starting point for conversation about the referendum and the way in which we should engage in it.
In the apology, the Australian Government spoke on behalf of all Australians in recognising that Australia had acted wrongly in removing Indigenous children from their parents. The removal was dictated by the disrespectful claim that the children were defined, not by their shared humanity, but by their race. This disrespect caused lasting damage to the children affected, their families and their descendants.
It was possible only because of the Indigenous experience after the colonisation of their land. This was one of invasion, massacres, displacement, expulsion from land and the cultures it nurtured, violation of sacred places, the taking away of their children, discrimination enshrined in law and in custom, racism and condescension within Australian life, and imposed marginalisation.
It obscured the heroic story of endurance, resistance, guarding of culture and language, organisation, pride and constant struggle for justice that were also part of Indigenous experience. Recognition of this history must be the starting point for conversation about the referendum.
The choreography of the Apology is also relevant to the Referendum. It was not a talking about Indigenous issues but a conversation between representatives of the Australian nation and Indigenous representatives. Then prime minister Kevin Rudd made the apology in person to representatives of the Stolen Generations. In doing so, he emphasised that all Australians are equally entitled to respect, and that the Government is responsible to ensure that all Australians are treated equally regardless of their race and history.
Fr Andrew Hamilton SJ writes for Jesuit Communications and Jesuit Social Services.
FULL STORY
A reflection for the Anniversary of the National Apology to the Stolen Generations (By Fr Andrew Hamilton SJ, Catholic Outlook)