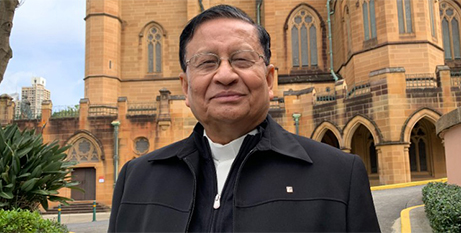 Cardinal Charles Bo used a Marian feast celebrated by Catholics from across Myanmar on Saturday to renew a call for peace in the civil-war-torn nation. Source: UCA News.
Myanmar's top churchman urged Catholics to hold firm to their faith and say prayers to the Virgin Mary amid suffering that has seen airstrikes, shelling and the burning of houses and churches by the army in recent months.
"We really need peace which is based on justice, and peace is possible," the 74-year-old cardinal observed.
"Our Lady of Mary understands us amidst the darkness, and let us pray to get strength from God like St Mary," the cardinal said in his homily on the feast of Our Lady of Lourdes at the National Marian Shrine of Nyaunglebin in Yangon Archdiocese.
Thousands of Catholics attended the celebrations at Nyaunglebin, joined by Buddhists and Hindus, while others celebrated the feast day online due to pandemic restrictions and the political unrest that has raged since the military coup on February 1, 2021.
Around 1000 devotees, including internally displaced people, attended a Mass held at Christ the King Cathedral in Loikaw, capital of Christian majority Kayah State. In the evening, the devotees participated in a prayer program in the cathedral compound.
"There was no gunfire and shelling so it was a relief for us to have our celebration with no disruptions," said one churchgoer, who did not wish to be named.
More than 1.5 million people have been displaced since the military takeover in February 2021, according to a February 2 report by the United Nations Office for the Coordination of Humanitarian Affairs.
FULL STORY
Cardinal Charles Bo renews call for peace in Myanmar (UCA News)