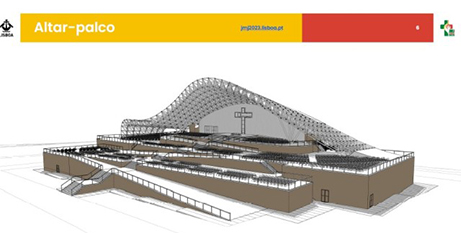 The organisers of World Youth Day 2023 in Lisbon say they have lowered the cost of the main stage which will be used as an altar for the final Mass, following an outcry over the price of the construction. Source: The Tablet.
Concerns and objections were raised in late January when it was announced that the infrastructure for the stage would cost over €4.2 million ($A6.4 million).
The bill will be footed by the Lisbon city authorities and the stage and covering will be used by the city for future events.
After news of the projected cost broke, the WYD Foundation, which was set up by the Patriarchate of Lisbon to oversee the organisation of the event, said it had been surprised by the figure and that it would do whatever possible to revise its specifications and bring the cost down.
The new value of €2.9 million ($A4.4 million) was announced in a joint press conference by Bishop Américo Aguiar and Lisbon mayor Carlos Moedas.
The restructured altar will be four meters high and is set to hold 1240 people.
The initial project was for a nine-meter-high structure that could support up to 2000 people, half of whom were expected to be bishops.
The bishop also announced alternative funding for the second large stage in central Lisbon, which will be the altar for the opening Mass, presided over by the patriarch, and the Way of the Cross for the event. Their combined cost of €450,000 ($A694,000) will be fully paid by the WYD Foundation.
WYD Lisbon 2023 will take place August 1-6 and is expected to attract up to 1.5 million pilgrims.
FULL STORY
World Youth Day reduces costs after outcry (By Filipe Avillez, The Tablet)