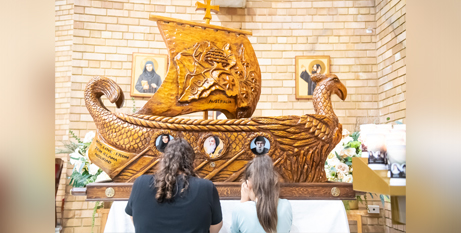 The Maronite Eparchy of Australia launched its Golden Jubilee year celebrations on the feast of its spiritual father, St Maroun.
The feast was marked on February 9 at St Maroun's Cathedral in Redfern in Sydney by welcoming relics of St Maroun as well as saints Charbel, Rafqa and Nehmetallah and Mary of the Cross MacKillop.
Maronite Bishop Antoine-Charbel Tarabay said, "At the beginning of this Jubilee Year, we can look back with gratitude for so much that has been achieved in the past 50 years of the Eparchy, noting that the history of the Maronites in Australia is much older: it goes back more than 150 years. For more than 100 years, pioneer priests and religious sisters embedded the seeds also planted over 1600 years by St Maroun and his disciples.
"We can say these have come to fruition in this land enabling the establishment of an Eparchy led by a bishop, and making it possible for the Maronites of Australia to accomplish all that they have."
In 1973, and with the arrival of the first bishop, Abdo Khalife, the newly formed diocese had four priests, and three religious sisters. In 2023, the eparchy has 58 priests and 20 religious sisters, 21 churches and chapels, eight schools, five aged care centres and a vision reflected in its pastoral priorities (2021-2027) plan.
The relics are housed in a reliquary designed for the eparchy's Golden Jubilee by sculptor Toufic Mourad and will visit all Maronite Catholic parishes and organisations in the coming year.
Details: Maronite.org.au.
FULL STORY
Maronite Eparchy of Australia celebrates 50 Years since official establishment, welcomes the relics of Lebanese and Australian Saints (Maronite Eparchy)