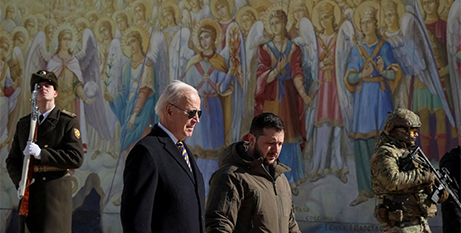 Ukraine's most senior Catholic prelate says the surprise visit of US President Joe Biden on Monday has given the country's people new hope on the one-year anniversary of Russia's invasion. Source: Crux.
Speaking to Italian journalists via Zoom, Major Archbishop Sviatoslav Shevchuk, head of the Ukrainian Greek Catholic Church, said "the Russian army has literally sentenced us to death", but that the many visits of heads of state to Kyiv in the past year, including that of Mr Biden, "gives us hope that this sentence will not be carried out".
The solidarity shown by these visits, Archbishop Shevchuk said, gives the Ukrainian people hope "that we will be able not only to survive but also to defend ourselves and build a free and democratic society."
"A year ago, at this very moment, all diplomatic representatives were leaving Kyiv. The Americans themselves called on their fellow citizens to leave Ukrainian territory," Archbishop Shevchuk said, noting that when Russia invaded Ukraine on February 24, 2022, only two diplomatic representatives remained in Kyiv: the Vatican's envoy, Archbishop Visvaldas Kulbokas, and the ambassador of Poland.
"All the others fled. A year later, not only has everyone returned, but the President of the United States has even arrived," Archbishop Shevchuk said, issuing a plea to the international community: "Don't leave us alone, don't abandon us."
With the war already reaching the one-year mark, it has lost much of its immediate news appeal, he said, voicing hope that "the Lord hears the voice of blood crying out from the Ukrainian land to the heavens" and that "the world not close its eyes before the wounds and suffering of the Ukrainian people."
Mr Biden made an unannounced visit to the Ukrainian capital of Kyiv on Monday, where he met with Ukrainian President Volodymyr Zelenskyy in a display of western solidarity with the warring nation.
FULL STORY
Ukraine's Catholic leader says Biden visit generated new hope (By Elise Ann Allen, Crux)