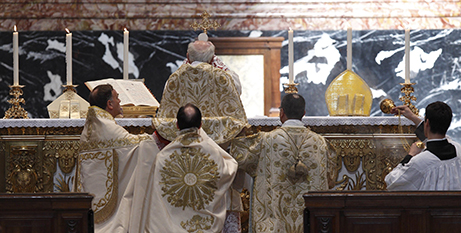 Pope Francis has stepped up efforts to implement restrictions on the old rite of the Mass with a new ruling that tightens the conditions for the celebration of the pre-Second Vatican Council liturgy. Source: The Tablet.
The Pope yesterday confirmed that only the Holy See can give dispensations for old-rite Masses to be said in parish churches.
Any priest ordained after July 16, 2021 – the date when the Pope's restrictions on the older liturgy were issued – must also receive a special licence to celebrate according to the Roman Missal of 1962.
The Pope confirmed the latest measure in a meeting with Cardinal Arthur Roche, the prefect of the Dicastery for Divine Worship, on Monday.
It follows news that bishops have been granting dispensations for old-rite celebrations to continue in parish churches.
Francis issued the ruling Traditionis Custodes, he said, to restore unity to Catholic worship, stressing that the liturgical books that followed the reforms of the Second Vatican Council are the "unique expression" of the liturgy in the Roman Church.
In that legislation, he stated that old-rite celebrations could still occur but in locations other than parish churches.
The Pope's ruling effectively re-imposed restrictions on older forms of the liturgy, which Benedict XVI had lifted in 2007.
Writing to the world's bishops, Francis said that while his predecessor had tried to recover unity in the Church, his concession had been exploited to "injure the Church, block her path, and expose her to the peril of division".
FULLS TORY
Francis stiffens restrictions on pre-Vatican II Mass (By Christopher Lamb, The Tablet)
RELATED COVERAGE
Pope clarifies rules limiting celebration of pre-Vatican II Mass (CNS)
Pope Francis clarifies two points of 'Traditionis custodes' (Vatican News)