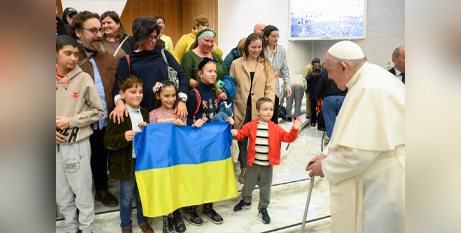 Pope Francis has lamented that the "absurd and cruel" war in Ukraine is still raging a year after Russia's invasion and has condemned the failure of national leaders to achieve a diplomatic solution. Source: Crux.
Speaking during his general audience address yesterday, Pope Francis noted that on Friday the world will observe the one-year anniversary of the start of the war in Ukraine.
Calling February 24 a "sad anniversary," the Pope said, "The balance of dead, wounded, refugees, displaced people, destruction, social and economic damage, speaks for itself."
"Can the Lord forgive so many crimes and so much violence? He is the God of peace," he said, and assured the Ukrainian people of his closeness while challenging the international community, asking them, "Was everything possible done to stop the war?"
"I appeal to those who have authority over nations to commit themselves concretely to ending the conflict, to reaching a ceasefire and the start of peaceful negotiations. The one built on rubble will never be a true victory," Francis said.
Though the total number of casualties is impossible to determine at present, current United Nations estimates place the number of civilian deaths at 8000, many of whom are children, while another 13,300 have been injured. There have been an estimated 300,000 casualties among armed forces on both sides, according to the Office of the United Nations High Commissioner for Human Rights.
Eight million Ukrainians have fled the country as refugees, while an additional eight million are internally displaced.
The war has also caused a global energy and food crisis due to sanctions on Russian oil and a shortage of Ukrainian wheat, while critical energy infrastructure in Ukraine has repeatedly been targeted by Russia, leaving millions without heat amid frigid winter temperatures.
FULL STORY
Pope appeals for ceasefire ahead of Ukraine war anniversary (By Elise Ann Allen, Crux)
RELATED COVERAGE
Pope marks anniversary of Russia's 'absurd, cruel' war on Ukraine (CNS)