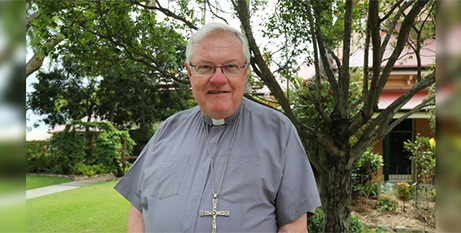 Apostolic Nuncio Archbishop Charles Balvo is upbeat about the changing role of the Church after a week spent visiting the Brisbane Archdiocese. Source: The Catholic Leader.
During a busy schedule, the 71-year-old Catholic leader found himself alongside Brisbane Archbishop Mark Coleridge aboard a helicopter flying high above the Sunshine Coast's new residential community of Aura.
Archbishop Balvo was impressed by the scale of the development – and the potential for church mission in the community that will be part of the Caloundra parish.
"There are going to be 50,000 more people living there. I mean it's a real expansion," he said.
"So they're going to build a (Catholic) school and there will be space on it, eventually, for a church.
"There are going to be new opportunities to evangelise."
Serving as Pope Francis' Australian representative, Archbishop Balvo said the Church must look for new ways to spread the Gospel message.
"One thing Pope Francis has promoted is missionary discipleship for everyone. The missionaries are ourselves in our societies," he said.
"There are a lot of new ways of preaching the Gospel to people who have just found other things in their life, other values."
Archbishop Balvo highlighted the power of personal witness as a way of attracting people to the Church through the message of the Gospel.
He said it was important for the Church to "promote and try new means to teach people about the important value of a life of faith" because of a growing and popular belief that "Life is good, so you don't need God".
FULL STORY
Nuncio sees new opportunities to evangelise (By Mark Bowling, The Catholic Leader)