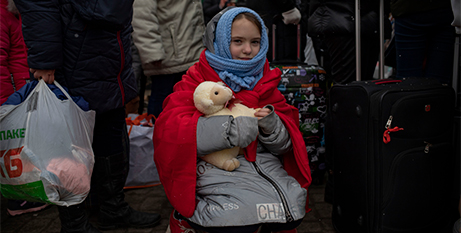 Australian Catholic charities Caritas Australia and Jesuit Mission have reflected on the devastation and humanitarian toll on Ukraine on the one-year anniversary of Russia's invasion.
After 12 months of conflict in Ukraine, the toll on civilians has been catastrophic. Thousands have been killed, many more injured, millions forced to flee, and homes and vital infrastructure destroyed.
"One year into this war and the people are weary, but incredibly hope remains. Ukrainians have endured, and continue to endure, intense hostilities, and they're facing extraordinary levels of trauma and isolation," said Damaris Pfendt, Caritas Australia's Humanitarian Emergencies Lead for Ukraine.
Since the escalation of the conflict on February 24 last year, Caritas Ukraine has assisted more than 2.1 million people, while Caritas Spes Ukraine has supported more than 2.9 million people affected by the war through a joint emergency response.
Caritas Australia has recently committed an additional $1 million to its partners Caritas Ukraine and Caritas Spes Ukraine to continue their humanitarian activities in the country.
At the outbreak of the conflict, Jesuit Mission Australia and the Xavier Network lent support to Jesuit Refugee Service (JRS) Europe to provide emergency assistance, shelter and opportunity to refugees fleeing the conflict.
Thanks to this collaboration, the Jesuits have been able to support over 56,000 Ukrainian refugees in one year.
"Our hearts are with the people of Ukraine. I thank our many JRS partners across Europe for working tirelessly on the ground to ensure that nobody is left behind," said Helen Forde, chief executive of Jesuit Mission Australia.
JRS Europe, project partner of Jesuit Mission Australia, continues to accompany people most affected by the conflict.
The charities are still accepting donations to continue their vital work in Ukraine.
Details: Caritas Australia and Jesuit Mission Australia
FULL STORY
One year on, devastation and displacement remain in Ukraine (Caritas Australia)
Jesuits support over 56,000 Ukrainian refugees in one year (Jesuit Mission Australia)