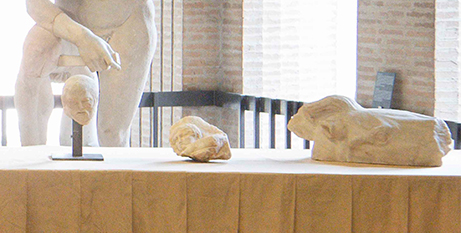 The Vatican and Greece yesterday finalised a deal for the return of three sculpture fragments from the Parthenon that have been in the Vatican Museums' collection for two centuries. Source: NCR Online.
The Vatican has termed the return an ecumenical "donation" to the Orthodox Christian archbishop of Athens and all Greece, not necessarily a state-to-state transfer. But it nevertheless puts pressure on the British Museum to conclude a deal with Greece over the fate of its much bigger collection of Parthenon sculptures.
The head of the Vatican city-state, Cardinal Fernando Vergez, signed an agreement to implement the "donation" during a private Vatican Museums ceremony with Greek Culture Minister Lina Mendoni and a representative of the Orthodox Christian archbishop of Athens and all Greece, His Beatitude Ieronymos II.
The envoy, Fr Emmanuel Papamikroulis, told The Associated Press that the Greek Orthodox Church and archbishop were grateful to Pope Francis for the deal.
"It has taken place at a difficult time for our country, and it will hopefully provide some sense of pride and happiness. I hope this initiative is followed by others," he said in a telephone interview from the Vatican, where he was touring the gardens after the signing ceremony.
"This initiative does help heal wounds of the past and it demonstrates that when Christian leaders work together, they can resolve issues in a practical way," Fr Papamikroulis added.
The fragments are expected to arrive in Athens later this month, with a March 24 ceremony planned to receive them.
FULL STORY
Vatican, Greece ink deal for 'donation' of Parthenon marbles (By Nicole Winfield, AP via NCR Online)