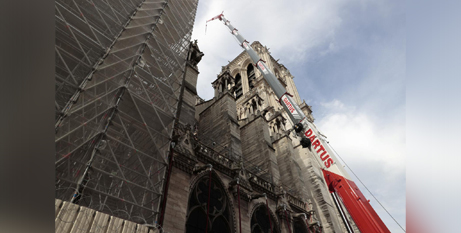 Notre Dame Cathedral in Paris, which saw its spire and roof destroyed by fire in 2019, is expected to be rebuilt within the five-year deadline set by the French Government. Source: CNA.
As confirmed by the head of the construction site, French Army General Jean-Louis Georgelin, in an interview with the Associated Press, the faithful and tourists should have access to the site again by the end of 2024.
Reconstruction work began some 24 months after the fire, with the first phase consisting of cleaning and securing the site, involving more than 200 different companies.
Although the beloved cathedral will not be ready for the Paris Olympic Games in July and August 2024, it should have regained its former shape by then, with the reconstruction phase of its emblematic spire to begin in April.
Before the end of the year, therefore, it should reappear in the Parisian sky as it was originally designed by the architect Eugène Viollet-le-duc in the 19th century, contrary to the initial wish of French President Emmanuel Macron, who had called for a "contemporary architectural gesture" in the restoration of the spire.
In a December 2022, communiqué issued by the Public Establishment in Charge of the Conservation and Restoration of the cathedral, General Georgelin had already announced "major advances" in the progress of the project.
"The completion of the reconstruction of the first of the collapsed vaults marks an important step, while the interiors are already regaining their beauty," he said.
After the spire and transept, reconstruction of the large roof of the nave and of the choir, whose frameworks date back from the beginning of the 13th century, will take place.
The wood that will be used to rebuild the frame was blessed by the rector of the cathedral, Bishop Olivier Ribadeau Dumas, in December 2022. The beams were entirely handmade in the medieval manner.
FULL STORY