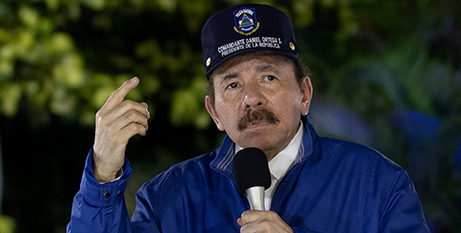 The Nicaraguan Government has closed the apostolic nunciature in Managua and its embassy to the Holy See, after Pope Francis compared President Daniel Ortega's regime to communist and Nazi dictatorships. Source: The Tablet.
Mr Ortega ordered the suspension of diplomatic relations on March 12, two days after the publication of an interview with the Pope on the Argentine news outlet Infobae to mark the tenth anniversary of his pontificate.
Responding to questions on conditions in Latin America, and on the Nicaraguan Government's attack on the Church, Francis said: "I have no other choice but to think that [Mr Ortega] is mentally unbalanced."
He praised jailed Matagalpa Bishop Rolando Álvarez, who was sentenced to 26 years imprisonment in February, as "a very responsible man, a very capable man".
Bishop Álvarez was arrested in August last year, and reportedly refused to leave the country along with 222 other opponents of the regime who were freed and deported in February.
"He wanted to testify and did not accept exile," Francis said.
The Nicaraguan regime's conduct, he said, was "like bringing back the 1917 communist dictatorship, or the 1935 Hitler dictatorship".
"They are a type of crass dictatorship. Or, to use a nice Argentinian expression, guarangas. Uncouth," Francis said.
The closure of the embassies follows a series of attacks on Nicaraguan Church institutions, including media outlets and universities. The regime last week ordered the closure of the Autonomous Christian University of Nicaragua and the John Paul II Catholic University, which expressed "great surprise and deep sadness".
There is a ban on public religious processions during Holy Week.
The regime has also expelled missionary orders and branches of international Church organisations. Caritas Nicaragua was forced to close by an order on January 31.
FULL STORY
Nicaragua 'suspends' relations with Holy See (By Patrick Hudson and Ellen Teague, The Tablet)