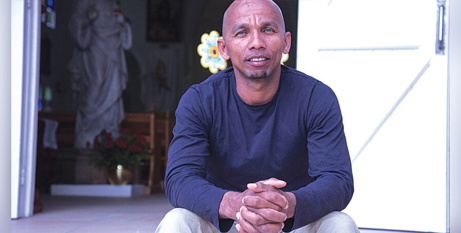 Adelaide refugee advocates are urging the Albanese Government to intervene in the case of a Sri Lankan asylum-seeker facing deportation next month despite his wife and child having the right to remain in Australia under recent changes to immigration policy. Source: The Southern Cross.
Nobert Eltran is among a group of refugees who arrived in Australia 10 years ago and were placed on bridging visas because they came on boats after the arbitrary cut-off date of 2013.
His wife, Vinotha, has a Safe Haven Enterprise Visa and under the new policy should be granted a visa together with their nine-month-old baby, David.
They have been living in Adelaide for the past 12 months but recently moved back to Brisbane where they have a strong support network through Nobert's involvement with the Catholic parish of Jubilee.
Henley Beach parishioners John and Anne Haren, who have been assisting Nobert and his family through the Circle of Friends, have initiated a letter-writing campaign to politicians to enlist support for intervention by the Immigration Minister Andrew Giles.
Mr Haren said while he welcomed the Government's announcement that the current holders of Temporary Protection and Safe Haven visas would be granted permanent visas with potential pathways to citizenship, the decision did not provide the same opportunity for another group of people who seek asylum and refuge in Australia.
"This group, numbering in the thousands, still faces uncertainty with the possibility of being returned to the country they have fled despite the fact that they have been in Australia for 10 years," Mr Haren said.
Mr Haren is asking people to write letters to Members of Parliament to bring Mr Eltran's case to their attention and to explain that the best interests of the child are for Mr Eltran to stay in Australia.
Details: [email protected]
FULL STORY
Campaign to keep family together (By Jenny Brinkworth, The Southern Cross)