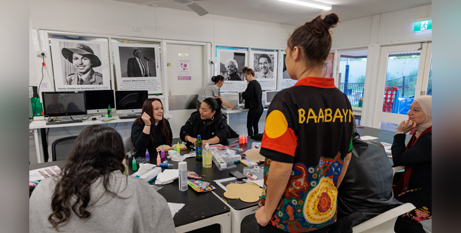 Caritas Australia's Project Compassion this week highlights the work of Baabayn Aboriginal Corporation's Young Mums and Bubs Group, which supports women with practical support and mentoring.
Baabayn Aboriginal Corporation was founded by five Elders from Western Sydney – home to one of the largest urban First Australian populations in Australia. Baabayn (which means "Ancestral Woman" in Gumbaynggirr language) provides a welcoming environment for First Nations families and individuals to help them heal from the past and nurture their sense of confidence and pride in the future.
The work of Baabayn involves initiatives such as a homework club, a Young Mums and Bubs program and a youth group. They also provide advocacy, counselling services and links to government departments.
The Baabayn program has successfully helped many young women to reconnect with their culture through Indigenous art, with a group of the women displaying their art at the Vivid festival in Sydney in 2022.
Thanks to the generosity of Project Compassion supporters, Baabayn continues to work with young mothers and help them keep their culture strong for future generations.
Details and to donate: www.caritas.org.au/project-compassion/
FULL STORY
Project Compassion Week Four (Caritas Australia)