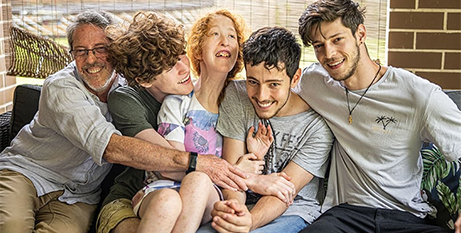 Sydney parishioners the Donagemma family received the miracle they prayed for to help them stay in Australia days before they were due to be deported. Source: The Catholic Weekly.
Following media coverage of their plight and a change.org petition which drew almost 40,000 signatures, St Agatha's Pennant Hills parishioner Vanni Donagemma was offered a dream job from an Australian gas and oil company.
The news also means that his youngest child, Benedetta, should be safe to remain legally with her family but only ever temporarily as she will never pass the requirements for a permanent visa.
"We were really running short on time but thank God, really it is like a miracle," Mr Donagemma said.
He and his wife Elisa said they had found it hard to ask for help initially but that the experience had shown them the best side of humanity and their parish and wider community.
The couple and Benedetta, 18, were preparing to leave their home of nearly 20 years when their temporary visas expired at the end of the month.
Mr Donagemma was invited to Australia from Italy to work as a geologist in 2006 and he and his wife raised their children here.
The parishioners at St Agatha's Church, Pennant Hills, said that after Mr Donagemma lost his job in 2021 due to the COVID pandemic, he had struggled to find work in the oil and gas sector, which was necessary for him to continue on his working visa status.
Benedetta lives with a rare chromosomal condition and is reliant on her parents' visas, so the heartbroken couple were preparing to separate her from her siblings and twin brother Matteo, who all successfully obtained visas. Benedetta has been deemed a burden on Australia's health system and has not passed the country's strict tests for migrants and refugees with a disability.
FULL STORY
Donagemma family saved by miracle days before deportation (By Marilyn Rodrigues, The Catholic Weekly)