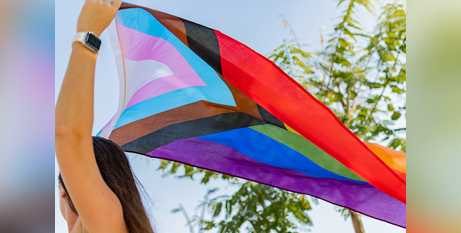 Librarians at the Australian Catholic University have been ordered to remove the public display of rainbow flags across campuses. Source: Sydney Morning Herald.
In an email sent late last month, staff were asked not to display rainbow flags and stickers across the institution's multi-state campus libraries.
The directive, sent during WorldPride celebrations, provoked an internal revolt by staff and a group of students who wrote an open letter to ACU vice-chancellor Professor Zlatko Skrbis.
"When you and your representatives should have been promoting messages of celebration, you have decided to ban pride imagery and instead send a message that LGBTIQ+ people are not welcome at your university," the open letter stated.
In a response, ACU vice-president Anthony Casamento and chief operating officer Stephen Weller said the university was based in the faith and traditions of the Catholic Church but was open to people of all faiths and circumstances.
"This means that these spaces do not focus on any one particular group or society," they wrote.
"We respect the right of students to form clubs and societies and, importantly, we strive to do all we can to offer support and care to every student."
An ACU spokeswoman said under the official flag policy of the university, certain flags were recognised.
"The university has a policy for the flying of flags, which recognises the national, state, Aboriginal, Torres Strait, ACU and Vatican flags for display in public space on ACU campuses," she said.
"Staff are free to display other flags at their offices or workstations if that is their personal decision. There is no directive or policy that denies displaying flags or other symbols, rainbow or otherwise, in personal spaces across the university."
FULL STORY
University orders staff to remove public display of rainbow flags (By Lucy Carroll and Christopher Harris, Sydney Morning Herald)