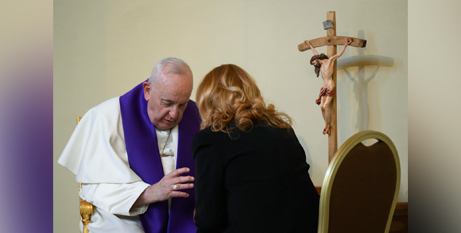 Pope Francis heard confessions at a parish in Rome on Friday and encouraged people to remember that God "holds out his hand and lifts us up whenever we realise that we are 'hitting rock bottom'". Source: CNA.
In the presence of eucharistic adoration, the Pope presided over a Lenten penitential service on Friday to open "24 Hours for the Lord," an initiative in which certain Catholic churches around the world remained open for 24 consecutive hours with round-the-clock confession and adoration.
"Brothers, sisters, let us remember this: The Lord comes to us when we step back from our presumptuous ego … He can bridge the distance whenever, with honesty and sincerity, we bring our weaknesses before him," Pope Francis said.
"He holds out his hand and lifts us up whenever we realise we are 'hitting rock bottom' and we turn back to him with a sincere heart. That is how God is. He is waiting for us, deep down, for in Jesus he chose to 'descend to the depths'."
The Pope underlined that God waits for us, especially in the sacrament of penance, where he said the Lord touches our wounds, heals our hearts, and leaves us with inner peace.
Pope Francis visited the Church of Santa Maria delle Grazie al Trionfale, a parish located about 1.6 kilometres from the Pope's residence inside Vatican City.
He offered a homily on God's mercy before leading the parish in the Confiteor prayer.
Many people made confessions to priests — and some to the Pope himself — during the Holy Hour at parish.
Pope Francis began the "24 Hours for the Lord" initiative in 2014, one year before he announced the Extraordinary Jubilee of Mercy.
FULL STORY
Pope Francis hears confessions at Roman parish: God lifts us up when we hit 'rock bottom' (By Courtney Mares, CNA)