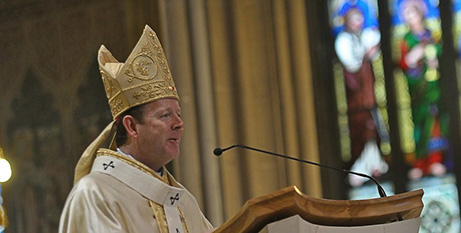 St Patrick has been celebrated as a patron for human trafficking victims and migrants in a statement by the Archbishop of Armagh and Primate of All Ireland, Eamon Martin. Source: The Tablet.
Archbishop Martin marked St Patrick's Day on Friday by reflecting on the saint's experiences as a migrant and survivor of human trafficking.
St Patrick was kidnapped by pirates and trafficked into Ireland aged 16, before spending six years as a slave.
"Patrick's captivity transformed his whole life and his relationships with God and others," Archbishop Martin said.
"In his slavery and isolation, he discovered through prayer a warm and personal friendship with God which he instinctively wanted to communicate to everyone he met."
"In that sense St Patrick is truly a saint for modern times."
Archbishop Martin continued: "His experience raises awareness of the injustice of human trafficking which shockingly continues here in Ireland, north and south, in 2023."
For every one victim of human trafficking detected in Ireland there are thought to be two more, according to research by the United Nations Office on Drugs and Crime in 2016.
Of these, 55 per cent are trafficked for sexual exploitation, while 38 per cent are trafficked for their labour, the Irish Human Rights and Equality Commission has reported.
The vast majority are migrants, and 66 per cent are women.
Archbishop Martin also emphasised that St Patrick was a migrant who faced discrimination for not being born in Ireland.
The Archbishop of Dublin, Dermot Farrell, delivered a homily in which he emphasised the experience of St Patrick – and of Irish emigrants throughout history – as a stranger in a foreign land.
FULL STORY
Irish bishops hail Patrick as a saint for modern times (by Phoebe Hobbs, The Tablet)