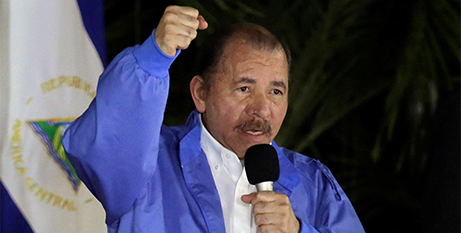 The Vatican has closed its embassy in Nicaragua after the country's government proposed suspending diplomatic relations, the latest episode in a years-long crackdown on the Catholic Church by the administration of President Daniel Ortega. Source: Sight Magazine.
The Vatican's representative to Managua, Msgr Marcel Diouf, left the country Friday, bound for Costa Rica, a Vatican official said on Saturday, speaking on condition of anonymity.
The Vatican action came a week after the Nicaraguan Government proposed suspending relations with the Holy See, and a year after Nicaragua forced the papal ambassador at the time to leave. It's not clear what more the proposed suspension would entail in diplomatic terms.
Relations between the Church and the Government have been deteriorating since 2018, when Nicaraguan authorities violently repressed anti-government protests.
Some Catholic leaders gave protesters shelter in their churches, and the Church later tried to act as a mediator between the government and the political opposition.
Mr Ortega branded Catholic figures he saw as sympathetic to the opposition as "terrorists" who had backed efforts to overthrow him. Dozens of religious figures were arrested or fled the country.
Two congregations of nuns, including from the Missionaries of Charity order founded by Mother Teresa, were expelled from Nicaragua last year.
Prominent Catholic Bishop Rolando Álvarez was sentenced to 26 years in prison last month after he refused to board an airplane that flew 222 dissidents and priests to exile in the United States.
In a March 10 interview with Argentine media outlet Infobae, after Bishop Alvarez's sentencing, Pope Francis called Ortega's government a "rude dictatorship" comparable to Hitler's that was led by an "unbalanced" president.
According to Vatican News, the care of the Vatican's embassy, or nunciature, was entrusted to the Italian government, according to diplomatic conventions.
FULL STORY
Vatican closes embassy in Nicaragua after Ortega's crackdown (By Nicole Winfield and Gabriela Selser, AP via Sight Magazine)