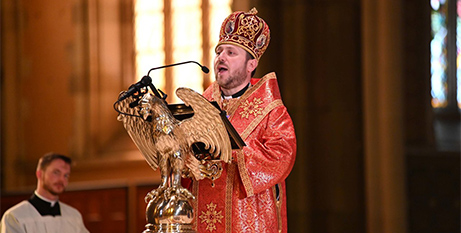 The Ukrainian Catholic Church in Australia will switch from the Julian to the Gregorian calendar, sharing the feasts of Easter and Christmas with other Catholics following a decree by Bishop Mykola Bychok CSsR. Source: The Catholic Weekly.
The move follows resolutions ­promulgated by the Ukrainian Greek Catholic Patriarch Sviatoslav Shevchuk on February 6.
Ukrainian Catholics will no longer celebrate Christmas on January 7, but join Roman Catholics on December 25.
In the formal declaration posted online on Wednesday, Bishop Bychok announced that the Eparchy of Saints Peter and Paul, Melbourne, responsible for Australia's Ukrainian Catholics, will adopt the Gregorian calendar for both moveable and immovable feasts.
The change will take effect from September 1, the first day of the liturgical year for churches with Byzantine heritage.
Previously, the eparchy has followed the Julian calendar, which is 13 days behind the Gregorian, and is used by the Russian and Ukrainian Orthodox churches, as well as Ukrainian Catholics.
"I pray the Good Lord to grant our Eparchy his grace for a smooth transition to the Gregorian calendar," the decree said.
Mitred Archpriest Simon Ckuj, protosynkellos of the eparchy and parish priest of St Andrew's Ukrainian Catholic Church, Lidcombe, said that for many people the news would be "difficult and very emotional."
But parishes would find it easier to conduct the great feasts, in particular, with the support of the Good Friday holiday.
"We are not giving up anything, in fact it's a way of making our traditions more relevant in Australia today," Fr Ckuj said.
FULL STORY
Ukrainian Catholics in Australia change from Julian to Gregorian calendar (By Marilyn Rodrigues, The Catholic Weekly)