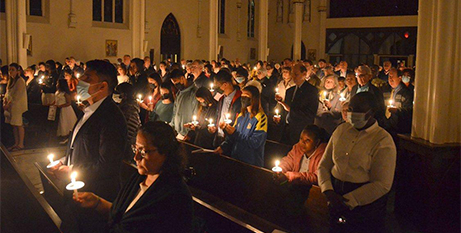 Four in 10 Australians would attend an Easter service if they were invited by a close friend or family member, a recent survey has found. Source: The Catholic Leader.
The survey, conducted by the Australian Community Survey, also found that 19 per cent of respondents were unsure about attending, while 29 per cent said they would not go and 10 per cent reported having no close friends or family who attend church.
Despite the relatively high percentage of those open to attending Easter services, only 17 per cent of Australians attended such services over the past three years.
"People are more receptive to attending church at a significant time like Easter — so go ahead and invite them," National Church Life Survey research director Ruth Powell said.
Women, people with university degrees, and those born in non-English speaking countries were more likely to accept an invitation to an Easter service, according to the survey.
Age did not appear to be a significant factor, as people from all age groups were equally likely to say "yes" to an invitation.
The survey also highlighted a lack of familiarity with Christianity among some respondents. About 41 per cent of Australians said they had limited or no familiarity with the religion, while 53 per cent believed Jesus was a real person who actually lived, and 21 per cent thought he was a myth or fictional character.
Dr Powell said that relationships were essential for authentic engagement, and that Easter was an excellent time for churchgoers to invite family and friends to join Christian celebrations and have respectful conversations about matters of faith.
The survey, conducted in December 2022, asked 1000 Australians about their attitudes toward attending Easter services.
FULL STORY
Four in 10 Australians open to going to church at Easter if asked (The Catholic Leader)