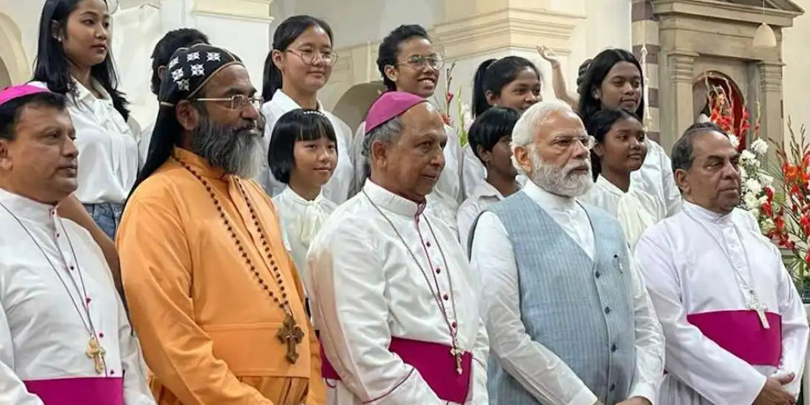 Indian Prime Minister Narendra Modi visited the Sacred Heart Cathedral in New Delhi on Easter Sunday evening, which Christian leaders say opens an opportunity for dialogue with the government aiming to put an end to harassment Christians face in the country. Source: UCA News.
Mr Modi's visit to the cathedral, the first such visit since the leader of the pro-Hindu Bharatiya Janata Party (BJP) became Prime Minister in 2014, came as Christian leaders continue to accuse Hindu groups of attacking their people in most northern states where Mr Modi's party runs state governments.
"We are very happy that the Prime Minister visited our cathedral and shared his Easter greetings with us," said Archbishop Anil Joseph Couto of Delhi, who welcomed him at the cathedral.
Bishops of two Eastern rite Churches in the Delhi region — Syro-Malabr Bishop Kuriakose Bharanikulangara and Syro-Malankara Bishop Thomas Antonios Valiyavilayil — also joined Archbishop Couto of Latin rite.
Couto gifted him a small statue of the risen Lord, which Mr Modi accepted happily.
The visit, though short, was symbolic and has sent a clear message, according to Archbishop Couto. "Modi takes everyone along and not away from anybody," he said.
During the 25-minute visit, Mr Modi lit a candle in front of the statue of the risen Lord Jesus Christ and enjoyed three Easter hymns. He also interacted with the children in the choir and "clicked photos with them as a mark of his friendly gesture," Archbishop Couto said.
He also planted a sapling on the Church campus before his departure.
FULL STORY
Indian PM's cathedral visit evokes hope among Christians (UCA News)