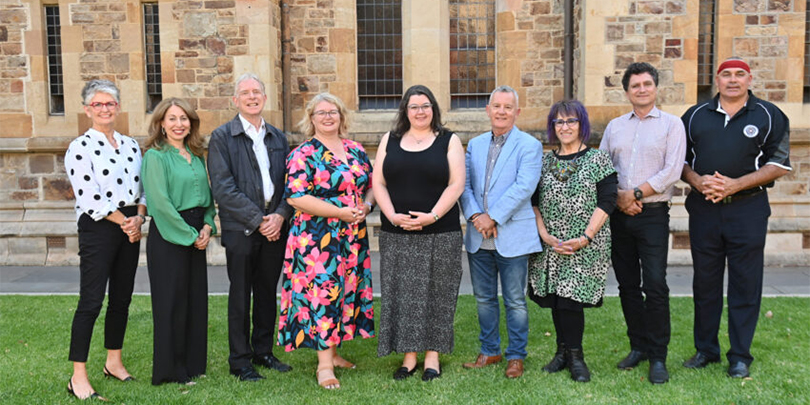 The Centacare Catholic Family Services advisory council has met officially for the first time, heralding a new era for the South Australian organisation. Source: The Southern Cross.
The council brings together six members and a consultant from diverse backgrounds including law, education, child protection, social work, ministry, academia and Aboriginal spirituality.
The council aims to highlight Centacare's mission and identity within the Adelaide Archdiocese and to forge deeper connections with clergy, parishes, Catholic Education South Australia and other archdiocesan services.
Lawyer Claire Victory has been appointed as the inaugural chair of the council. Formerly national president of St Vincent de Paul Society National Council, Ms Victory is director of Industrial Policy and Practice at Australian Nursing and Midwifery Federation (SA). She is joined by council members:
• Kelly Bunyon, principal, Compass Catholic Community
• Sophie Diamandi, adjunct lecturer, University of South Australia
• Carl Collins, executive director, Child Protection Solutions Australia
• Fr Dean Marin, Vicar General, Catholic Archdiocese of Adelaide
• Professor Ian Goodwin-Smith, director, Centre for Social Impact at Flinders University
John Lochowiak will be a consultant to the group. After nearly 10 years at Centacare, Mr Lochowiak recently stepped down from his role as manager of Aboriginal Services to join the South Australian Aboriginal Building & Civil Construction Academy, which is part of Aboriginal business enterprise RAWsa.
Mr Lochowiak led a Welcome to Country and smoking ceremony beside St Francis Xavier's Cathedral to begin the council's inaugural meeting.
In her welcome address, Centacare executive director Leanne Haddad said she looked forward to the journey ahead with the council.
"It is all about ensuring Centacare is connected to mission and our Catholic Social Teachings, and we absolutely are, but there is always room for strengthening and working with our valued partners," she said.
FULL STORY
Advisory Council heralds new era for Centacare (The Southern Cross)