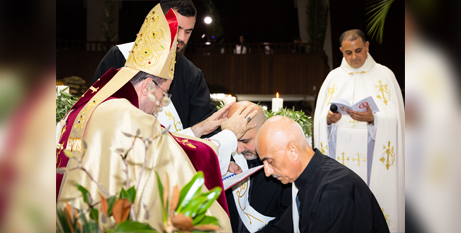 The Maronite Eparchy of Australia, New Zealand and Oceania has celebrated the ordination of two new deacons, Ghassan Nakhoul and Sayed Issac.
Ordained subdeacons together in 2018, Nakhoul and Issac's vocation journeys are distinctive but marked throughout by the blessings of the Lord.
On April 1, they were surrounded by their families, friends and the community to mark and celebrate a new chapter in their vocation.
Referring first to the Gospel reading of the day, Maronite Eparch Bishop Antoine Charbel Tarabay said: "This is a momentous occasion for these two men and for our entire community. Today, Ghassan and Sayed are responding to the call of discipleship and to 'come and see', just as Jesus' first disciples did (John 1:39). For as deacons, they will be the servants of the Word and of the Altar, proclaiming the Gospel and assisting in the celebration of the Eucharist. They are called to reflect the love of the Father in the midst of our community.
"And fatherhood is not a new notion to our deacons as they are both fathers to wonderful children and blessed with wives who support them in their mission and vocation."
Father of four Nakhoul is a journalist and author, having gained recognition for his work and success in his career path.
After a long and successful career as a solicitor, Issac has served as a Eucharistic Minister and Subdeacon at Sydney's St Raymond's Parish in Auburn, St Joseph's Parish in Croydon and at Our Lady of Lebanon Co-Cathedral.
FULL STORY
Maronite Eparchy of Australia ordains two new deacons (Maronite Eparchy)