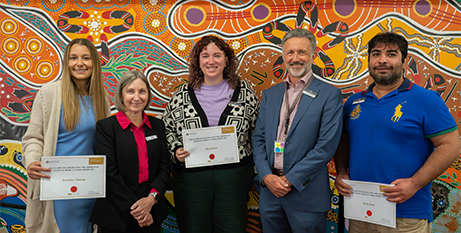 The University of Notre Dame Australia has teamed up with St John of God Health Care to help increase the number of Aboriginal and Torres Strait Islander doctors working in Australia's health care system. 
Under the partnership, St John of God has provided $160,000 in scholarship funding that will support four of the university's Indigenous medical students over the four years of their postgraduate degree program.
"Currently only about 0.5 per cent of Australia's registered doctors are Indigenous, which equates to only about 500 across the country," Notre Dame's School of Medicine head Professor Gervase Chaney said.
"To reach population parity, the figure needs to grow to about 3500, or seven times the current number.
"The tragedy of such low representation is that many Aboriginal and Torres Strait Islander people will never have had the pleasure of being treated by a doctor who shares and truly understands their social and cultural background.
"That is why this partnership with St John of God Health Care is so important to help ensure our Aboriginal and Torres Strait Islander students are as well supported as possible and are given every chance of success."
Past recipient Rosie said the funding allowed her to pay for her Australian Health Practitioner Regulation Agency registration, get a new passport and reunite with her brothers who live in the eastern states.
"It has been an absolute privilege to study medicine, and I feel proud to be graduating not just for myself but my community," she said.
St John of God Subiaco Hospital CEO Tina Chinery said it was the second time the organisation had awarded scholarships to Notre Dame students.
"It is extremely satisfying to know that three of the four past recipients have now gone on to qualify as doctors, with the fourth still enrolled, and are now working in Western Australia's health system where they will be able to do their part to improve the health and wellbeing of Indigenous Australians, as well as the broader community," Ms Chinery said.
FULL STORY