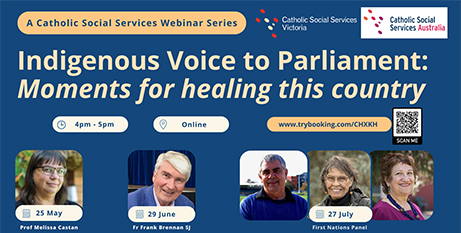 Catholic Social Services Victoria and Catholic Social Services Australia have opened registration for their three-part webinar series on this year's Voice to Parliament referendum. 
The Indigenous Voice to Parliament: Moments for healing this country event will bring together a range of speakers to interrogate why this democratic decision is happening in 2023, and how either a positive or negative outcome of the referendum will be a defining moment for Australia.
Professor Melissa Castan, director of the Castan Centre for Human Rights Law at Monash University, will kick off the webinar series on Thursday, May 25. She will explore questions including: What is the history surrounding the referendum? Should First Nations people have a Voice in Parliament? Why is it being proposed as an adaption to the Australian Constitution?
The second webinar will be given by Fr Frank Brennan SJ AO, who will look at how the Church has engaged in Aboriginal affairs, why Catholics should take serious interest in the referendum, and how they might approach their vote from a context of Catholic Social Teaching.
The final session in the joint webinar series will feature three different voices of First Nations peoples – Uncle Ron Briggs of Good Shepherd Australia New Zealand, Aunty Violet Sheridan, an Ngunnawal Elder (Canberra) and Esmai Manahan from MacKillop Family Services –who will form a reflective panel that will consider what the Voice means for them, and what the referendum might mean for their communities and Australia.
CSSA executive director Monique Earsman said: "As the referendum approaches, discussions in the media and our communities will intensify, and some may attempt to create divisions or spread fear. We aim for our three events to ease those concerns and tensions while providing a platform for thoughtful and well-reasoned debate."
Details: www.trybooking.com/CHXKH
FULL STORY
Catholic Social Services launch joint webinar series on Indigenous Voice to Parliament (CSSV and CSSA)