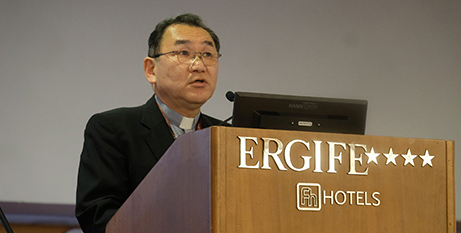 Caritas Internationalis elected Archbishop Tarcisius Isao Kikuchi SVD as its new president at a gathering in Rome last week. Source: Crux.
Archbishop Kikuchi is Archbishop of Tokyo and a religious priest with the Divine Word Missionaries who served several years in Ghana. He will lead the organisation that is the global umbrella of the Church's institutional charity initiatives.
Archbishop Kikuchi has both missionary and serious pastoral leadership experience and inside knowledge of Caritas, having served as president of Caritas Japan and Caritas Asia, as well as on the leadership council of Caritas Internationalis
"Caritas must be in the front line to receive, accompany, serve and defend the poor and vulnerable," Archbishop Kikuchi said on Sunday, addressing the 400 Caritas delegates from all over the world.
"This mission must be upheld and capture all attention of the members of the confederation and I would like to be the one to lead the entire organisation to fulfil this important mission of the Church together with the Secretary-General. All are invited to walk together."
Caritas Australia's advancement director Richard Landels welcomed Archbishop Kikuchi's appointment.
"Archbishop Kikuchi has a long history with Caritas in a range of leadership roles – he knows our federation very well. As a former missionary, he has lived the Caritas mission to help and serve," Mr Landels said.
"We welcome his appointment as president and look forward to receiving his knowledge and guidance as Caritas journeys through a time of unprecedented challenges across our world."
FULL STORY
New Caritas leader issues call to 'walk and work together' (Crux)
Caritas Internationalis welcomes its 13th president (Caritas Australia)