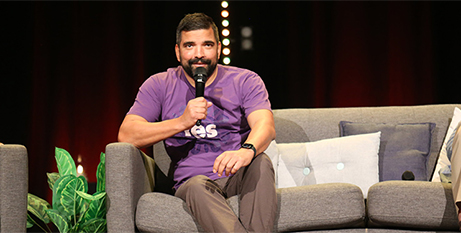 Brisbane Archdiocese's Summit 2023 has heard a case for voting "Yes" at the upcoming referendum to recognise Aboriginal and Torres Strait Islander peoples in the Constitution by establishing an Indigenous Voice to Parliament. Source: The Catholic Leader.
"This is a simple recognition of the fact that Aboriginal and Torres Strait Islander peoples are the first peoples of this country that we are the oldest continuous culture on earth," Yes23 campaign director Dean Parkin told an assembly of parishioners, educators, parents, support staff, catechists, lay leaders, religious and clergy from across south-east Queensland at the weekend.
Mr Parkin, a Quandamooka man and a Catholic from North Stradbroke Island, has the support of Brisbane Archbishop Mark Coleridge, who has championed Indigenous leaders demanding a constitutional Voice.
Mr Parkin said securing a Voice to Parliament would be a "modest statement" of recognition in the Australian constitution that would connect every single Australian to the country's 65,000 year-old history.
"We're saying something about who we are as a nation, and we're deepening and strengthening that sense of what it means to be an Australian," Mr Parkin said.
"We get to do something a bit practical, too. We get to give our people a real Voice established under the Constitution.
Mr Parkin said the Voice would allow Indigenous people to get a "fair go" and take positive, practical steps to close the gap in areas of health, education and life expectancy.
He spoke during a panel discussion on how the Brisbane Archdiocese can better engage with First Nations peoples.
It is one of seven apostolic priorities outlined by Archbishop Coleridge in "With Lamps Ablaze" – a document he wrote for Summit 2023.
"If sexual abuse is a running sore at the heart of the Church, the injustice done to First Nations peoples in this country is a running sore at the heart of the nation," Archbishop Coleridge wrote.
FULL STORY
Backing for Voice to parliament "Yes" vote during Summit 23 (By Mark Bowling, The Catholic Leader)