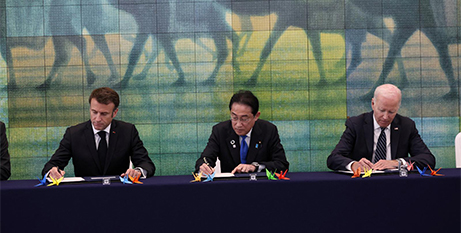 In a letter marking the G7 Summit in Hiroshima, Pope Francis asserted that the mere possession of nuclear weapons creates "a climate of fear and suspicion" and offers "only an illusion of peace". Source: CNA.
The Vatican released a letter on Saturday that the Pope wrote to Bishop Alexis Mitsuru Shirahama of Hiroshima assuring his prayers as "the G7 Summit meets in Hiroshima to discuss urgent issues currently facing the global community".
"The choice of Hiroshima as the site of this meeting is particularly significant, in light of the continuing threat of recourse to nuclear weapons," Pope Francis said.
Hiroshima was the site of the world's first atomic attack on August 6, 1945.
US President Joe Biden, British Prime Minister Rishi Sunak, French President Emmanuel Macron, Italian Prime Minister Giorgia Meloni, German Chancellor Olaf Scholz, Canadian Prime Minister Justin Trudeau, and Japanese Prime Minister Fumio Kishida visited the Hiroshima Peace Memorial at the atomic bombing site at the start of the summit on Friday.
"Hiroshima, as 'a symbol of memory,' forcefully proclaims the inadequacy of nuclear arms to respond effectively to today's great threats to peace and to ensure national and international security," Pope Francis said.
The Pope added that "nuclear arms and other weapons of mass destruction represent a multiplier of risk that offers only an illusion of peace".
On Friday, G7 leaders issued their first-ever statement on nuclear disarmament, with a special focus on Russia.
"We reiterate our position that threats by Russia of nuclear weapon use, let alone any use of nuclear weapons by Russia, in the context of its aggression against Ukraine are inadmissible," they said.
The G7 also criticised efforts by North Korea and Iran to develop nuclear weapons and warned that China's nuclear arsenal expansion poses a threat to regional and global stability.
FULL STORY
Pope Francis on G7 Summit: Nuclear deterrence offers 'only an illusion of peace' (By Courtney Mares, CNA)