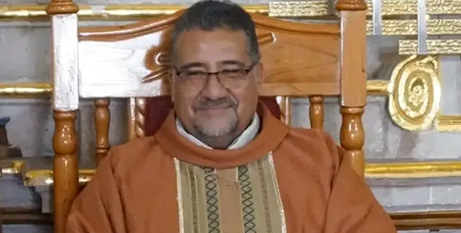 A parish priest was shot dead as he drove on a rural Mexican highway on Monday, marking yet another attack in what has become the most murderous country for Catholic clergy. Source: NCR Online.
Augustinian Father Javier García Villafaña was killed at about 7pm (local time) in the municipality of Huandacareo in Michoacán state to the west of Mexico City. Fr García was found dead with gunshot wounds.
The Morelia Archdiocese acknowledged Fr García's death, but provided little information and did not respond to a request for comment. The Catholic Multimedia Centre, which tracks attacks on clergy, reported Fr García had assumed responsibility for the Our Lord of Atonement Parish in Huandacareo on April 23.
The murder followed a May 21 attack on Archbishop Faustino Armendáriz Jiménez of Durango, who said an elderly man swung a knife at him in the sacristy of Cathedral Basilica of the Immaculate Conception in the northwest Mexican state.
Archbishop Armendáriz was unharmed in the attack, though the knife slashed through his clothes, tearing them.
Fr García's death marks the ninth fatal attack on clergy during the administration of Andrés Manuel López Obrador, according to the Catholic Multimedia Centre.
Church observers lack a cogent explanation for the attacks on clergy, though they point to rising violence in Mexico after the federal government launched a crackdown on drug cartels in December 2006.
The Catholic Multimedia Centre also has noted a rise in robberies, vandalism and the profaning of parishes across Mexico, according to the centre's director, Pauline Father Omar Sotelo Aguilar.
"As we have always said, it's persecution of members of the Catholic Church, it's persecution of the Catholic Church as such," Fr Sotelo told OSV News.
FULL STORY
Catholic priest killed in Mexico, ninth under current president (NCR Online)