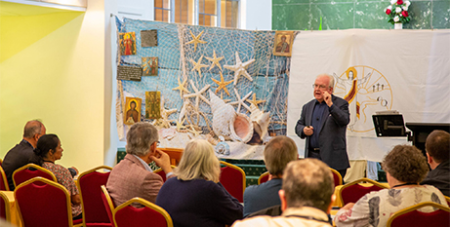 Australia's diaconate is "a critically important part of the emerging Church" NSW Ageing and Disability Commissioner Robert Fitzgerald told members of the community. Source: Catholic Outlook.
The Biennial National Deacons Conference on October 14, hosted by Parramatta Diocese, gathered around 100 ordained deacons, deacons-in-training, wives of deacons, transitional deacons, religious and lay men and women over three days with a series of addresses, workshops, faith and fellowship.
Mr Fitzgerald, the chair of Caritas Australia and a former commissioner on the Royal Commission into Institutional Responses to Child Sexual Abuse. He spoke on the topic "Deacons missioning in a Church without walls", exploring the role of a deacon in a changing and emerging Church.
"The Church in which we are all part is changing, has been changing and will continue to change at a much greater rate than most of us fully appreciate and that many of us would like.
"[As deacons] you may come from dioceses where you are either very enthusiastically received like here in Parramatta, some of you are in areas where it is lukewarm and then there are other areas where they have no idea what to do with you.
"But what is clear to us – to laypeople, to religious, to many priests and many bishops – is the role of the diaconate is very important in and of itself. It is not a second-rate ministry, you are not quasi-priests, you are not just the priest's assistant, you are mission to the Church, the emerging Church."
FULL STORY
Robert Fitzgerald at National Deacons Conference: "What you do matters" (By Mary Brazil, Catholic Outlook)