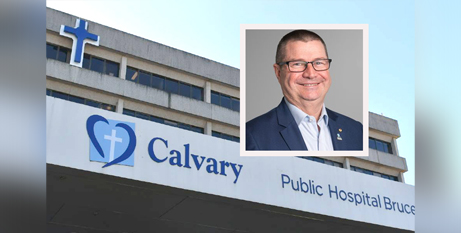 Calvary is ready to take legal action against the ACT Government over its proposed acquisition of Calvary Public Hospital, stating the "unrealistic timeline" has distressed staff and could put patients at risk. Source: Catholic Voice.
In a statement released yesterday, Calvary said a legal challenge was the only response left available if the debate on the bill was not adjourned to make room for genuine discourse.
The Health Infrastructure Enabling Bill is expected to pass today, allowing the Government to compulsorily acquire the hospital from July 3.
Calvary has been frustrated by the ACT Government's refusal to consider any meaningful options to resolve negotiations since the introduction of the bill on May 11.
"Our review of the proposed legislation and associated regulation indicates that just terms are simply not available and outside of this there is no indication that commercial terms are available to resolve this matter," Calvary national chief executive Martin Bowles said.
"All we have is an announcement and an imposed unrealistic timeline that has distressed our people and could ultimately put clinical safety at risk."
The proposed legislation was created for the ACT Government to compulsorily acquire the whole of Calvary's public hospital enterprise, including its land, the public hospital assets and other rights that Calvary has under the existing lease and Network Agreements.
The head of the Save Calvary taskforce, Fr Tony Percy, said the issue was bigger than Calvary.
"What's at stake here is not the Labor Party, not the Catholic Church, but the rights of ordinary citizens to have proper land and property rights," he said.
"Over 33,000 people have signed the Save Calvary Petition – however, it seems, we have yet to be heard."
FULL STORY
Calvary to take legal action against ACT Government (By Veronica Cox, Catholic Voice)
RELATED COVERAGE
Legislation to compulsorily acquire Calvary Public Hospital Bruce expected to pass Assembly today (Canberra Times)
Updated: Calvary Hospital vows legal challenge as Archbishop replies to PM (The Catholic Weekly)
Bishops move to check takeovers (The Australian)