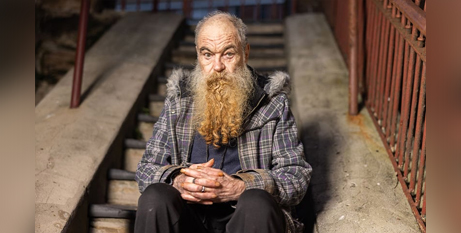 Sydney street poet David Marsh has launched his seventh book, a memoir titled Redemption at Work: My life story, at St Canice's Church in Elizabeth Bay. Source: The Catholic Weekly.
Mr Marsh, 66, has lived on or near the streets of inner and south Sydney for much of his life, which he chronicled in his previous books of poetry, prayers and reflections.
He is a long-time member of David's Place, a spiritual and fellowship community supported by the Archdiocese of Sydney and St Canice's.
Attracted to a career in politics or law in his youth, Mr Marsh told the gathering that he suffered the first of a series of mental breakdowns in his early 20s "at the end of my father's fists."
"When I was converted, I was in a state where it was impossible for me to find any sort of positivity in my life," he said.
"My conversion changed all that and Jesus was the first hope that I had of recovery from mental illness.
"My recovery is what I'm most grateful for in my life, that and the standing I have in the community today after being rejected and despised in my early life."
Mr Marsh publishes his poetry and other writings on his website, A Street Spirituality (although the site is currently down).
He said prayer is the lynchpin of his creative life and said he considers his litanies to be the pinnacle of his work.
"I chose the title Redemption at Work in order to emphasise what I see: Christ's redemption at work in the story."
FULL STORY
David's Place poet launches new book on street spirituality (By Marilyn Rodrigues, The Catholic Weekly)