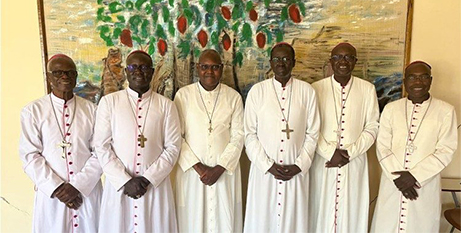 Catholic bishops in the overwhelmingly Muslim West African nation of Senegal have called for "reason, restraint and responsibility" amid a mounting spiral of political violence. Source: Crux.
At least 15 people have died in that violence over the past few days, according to national authorities. It broke out when opposition leader Ousmane Sonko was sentenced on June 2 to two years in prison for allegedly "corrupting" a young woman, after initially being charged with rape.
Theoretically the conviction could take Mr Sonko, 48, out of contention for presidential elections in Senegal set for 2024. He and his supporters have charged that the sentence was politically motivated.
In its wake, the opposition leader's supporters went on a rampage, burning tyres on highways and confronting police in the national capital of Dakar and several other places. It's a disturbing atmosphere for a country considered one of the most stable democracies in West Africa.
In a collective statement June 2, members of the Episcopal Conference of Senegal, Mauritania, Cape Verde and Guinea Bissau said they were "very concerned about the social and political climate currently prevailing in our country, particularly with the events we have been experiencing".
They said they were concerned about the "many human victims, as well as all the acts of destruction of public and private property" and the general "climate of fear and insecurity" that now prevails in a country that has often enjoyed long spells of peace.
"We call for reason, restraint and responsibility from all those involved in the violence," the clerics said.
The bishops underscored the need "to build and develop our country together, in peace, loyalty and mutual respect." And in emphatic fashion, they said, "No to violence! Yes to Peace!"
FULL STORY
Senegal bishops urge 'reason and restraint' amid spiral of political violence (By Ngala Killian Chimtom, Crux)