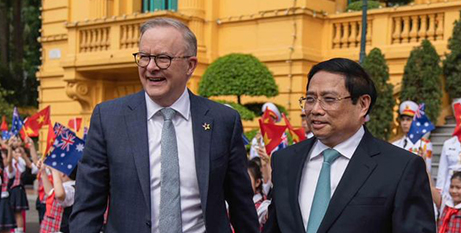 Two Australians facing the death penalty in Vietnam have been granted clemency after Prime Minister Anthony Albanese visited the country on the weekend. Source: News.com.au.
"I made representations to the Prime Minister yesterday morning and by yesterday afternoon the President had signed the clemency orders," Mr Albanese told ABC's 7.30 program last night after returning to Australia.
"Australia has a strong position of opposition to the death penalty and we make representations on behalf of Australian citizens.
"We are very pleased that Vietnam has agreed to the request and we thank them for it."
Mr Albanese did not name the two Australians who have been granted clemency and said their families had been given the good news.
"They have asked their privacy be respected, which is why I am not mentioning their names them tonight."
The Prime Minister said the breakthrough was in part due to improved relationships between Australia and Vietnam.
Several Australians are on death row in a number of countries. Six have been executed, the most recent being Bali 9 ringleaders Andrew Chan and Myuran Sukumaran in Indonesia in 2015.
Mr Albanese spent the weekend in Vietnam to mark 50 years of diplomatic relations between the two countries.
FULL STORY
Two Australians facing the death penalty in Vietnam have been granted clemency (News.com.au)