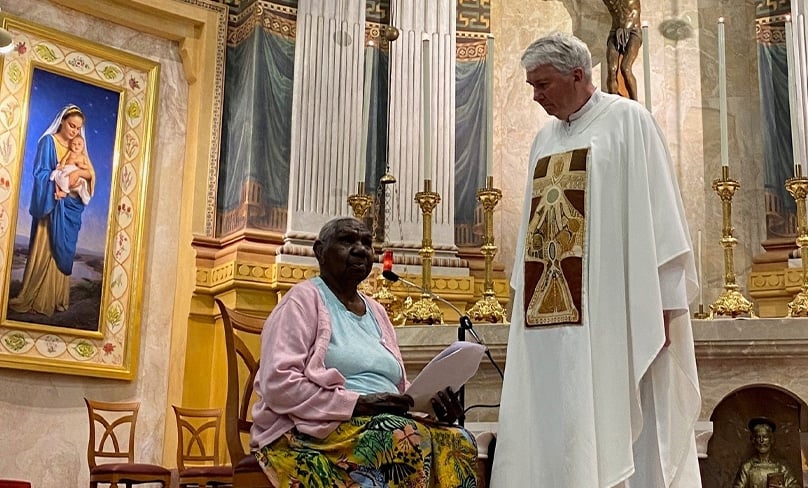 Fifty years after the first Aboriginal Liturgy was held at the 1973 Eucharistic Congress in Melbourne, Cardinal Arthur Roche joined Miriam Rose Ungunmerr-Baumannn and senior Australian Catholics at Domus Australia in Rome to celebrate the Church's ongoing journey towards reconciliation. Source: The Catholic Weekly.
Cardinal Roche, the prefect of the Dicastery for Divine Worship, was joined at the altar by the rector of Domus Australia, Fr Robert Hayes, and Frs Frank Brennan SJ, David Holcroft SJ, Ben McKenna SM, and the procurator-general to the Columban Fathers in Rome, Fr Robert McCulloch.
The Australian ambassador to the Holy See, Chiara Porro, welcomed guests to Domus Australia, including diplomatic representatives from Britain, Lithuania, France, Malaysia and the Democratic Republic of the Congo.
Cardinal Roche wore vestments from Fr Brennan's ordination, sewn by his mother in the 1980s, featuring a reproduction of Dr Ungunmerr-Baumannn's artwork, God with us down on the Daly.
The image was also selected to represent Australia's embassy to the Holy See, which celebrates its 50th anniversary this year.
The Mass was an important part of the 50th anniversary celebrations of diplomatic relations with the Holy See, which were held during reconciliation week.
Dr Ungunmerr-Baumann was a prized speaker in Rome during her trip last week, giving lectures on education and dadirri, or deep listening, alongside senior Vatican officials.
She met Pope Francis at his General Audience on May 31 and visited the church of St Paul's Outside the Walls, where Aboriginal monk Francis Conaci was buried.
FULL STORY
The church celebrates its journey towards reconciliation at Domus Australia (By Adam Wesselinoff, The Catholic Weekly)