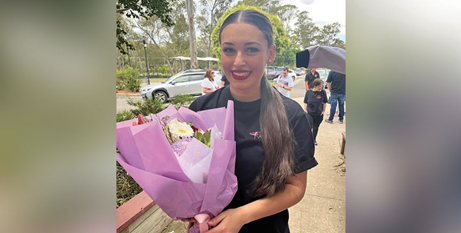 A young Western Sydney Catholic will express her two biggest loves – dance and faith – on one of the world's biggest stages. Source: Catholic Outlook.
Nineteen-year-old Antonia Zammit from St John XXIII Parish, Glenwood-Stanhope Gardens, has been selected to be part of Ensemble23 – a group of volunteer artists and performers that will be a central part of the upcoming World Youth Day in Lisbon.
Joining more than 40 people from around the world, Antonia will travel to Portugal for six weeks of intense rehearsals ahead of World Youth Day Week, where she will perform in front of Pope Francis and millions of young Catholics during the Welcome Ceremony, the Way of the Cross and the Night Vigil.
Antonia said it hadn't quite sunk in that she was going to World Youth Day.
"For as long as I remember, both dance and my faith have been two important aspects of my life," she said.
"I was interested in attending World Youth Day as a pilgrim with the Diocese of Parramatta, but I wasn't 100 per cent sure. On Mother's Day, I saw an ad pop up online calling for dancers and performers and I asked my mum whether I should apply, and she said there's no harm in applying and to just go for it."
Antonia has been dancing since she was five years old at a local studio and has learnt tap, jazz, ballet and contemporary dance styles.
The Diocese of Parramatta will be sending 170 pilgrims from across Western Sydney and the Blue Mountains to World Youth Day in Lisbon, including 71 parish young adults, 48 students, 15 young teachers, 21 small group leaders from both parishes and schools and four chaplains.
FULL STORY
Young Australian dancer set to perform in front of Pope Francis and millions of Catholics (By Mary Brazell, Catholic Outlook)