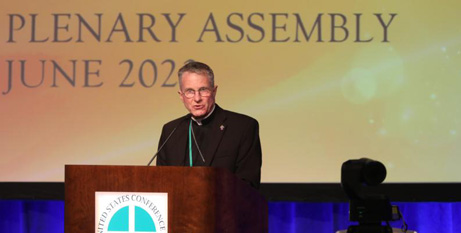 The Church in the United States remains "committed to the common good" in navigating several political issues impacting the poor and vulnerable, especially migrants, the president of the US Conference of Catholic Bishops has told the conference's spring plenary assembly. Source: OSV News.
Archbishop Timothy Broglio, who oversees the Archdiocese for the Military Services, told his brother bishops that "we cannot fail to see the face of Christ in all of those who need our assistance, especially the poor and the vulnerable".
He lamented political inaction on comprehensive immigration reform, saying "I know that this can put us at odds with certain groups or those who fear immigration, but our commitment is to the truth about the human condition and the dignity of the human person from conception to natural death".
"We strive to encourage those well-intentioned lawmakers who are seeking to enact effective and humane border management as part of a framework of comprehensive immigration reforms," he said
Archbishop Broglio also identified "turmoil and unrest" in Haiti and Russian President Vladimir Putin's unprovoked invasion of Ukraine as areas of concern for the US bishops and the faithful.
"We continue our prayers for an end to the aggression and the invasion," he said.
"There are no easy solutions."
The address to fellow US bishops was Archbishop Broglio's first as USCCB president, a three-year role to which he was elected in November at the bishops' biannual meeting.
FULL STORY
USCCB president lays out vision of church 'committed to the common good' (By Kate Scanlon, OSV News)