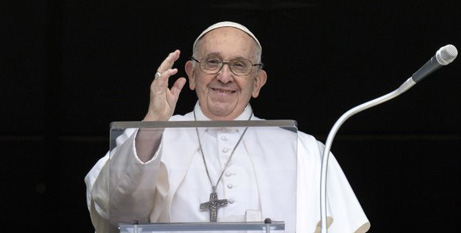 Pope Francis appeared in the window of the Vatican's Apostolic Palace on Sunday to make his first public speech since his release from hospital, urging Christians to show the world the closeness of God by "performing many deeds of love and hope". Source: CNA.
The 86-year-old Pope waved and smiled as he gave thanks for the prayers and messages that he received during his nine-day stay in the hospital to recover from surgery to repair an incisional hernia.
"This human and spiritual closeness has been a great help and comfort to me. Thank you all, thank you, thank you from the bottom of my heart," he said.
In his Angelus address, Pope Francis reflected on how Jesus asked his apostles to preach that "the kingdom of heaven is at hand" (Mt 10:7). He noted how Jesus also began his preaching with a proclamation that the God of love is present within humanity.
"Indeed, if the God of heaven is close, we are not alone on earth, and even in difficulty we do not lose faith," he said.
He encouraged Christians to be close to those who suffer and are alone, as well as to those who are far away or even hostile.
"This is the concreteness of faith; this is what matters," he said.
After praying the Angelus prayer in Latin with the crowd gathered below in St Peter's Square, Pope Francis prayed for the victims of an attack in Uganda, where rebels attacked a school near the Congo border, killing at least 38 students.
He also expressed sadness at the sinking of a refugee ship off the coast of Greece that has left more than 500 migrants presumed drowned.
FULL STORY
Pope Francis makes first public speech since hospitalization for abdominal surgery (By Courtney Mares, CNA)