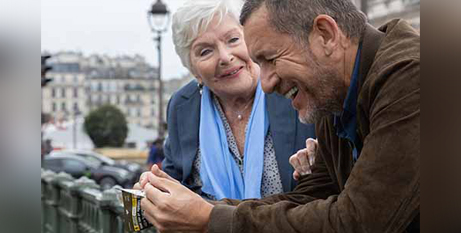 In Driving Madeleine (Une Belle Course), a seemingly simple taxi ride across Paris evolves into a profound meditation on the realities of the driver, whose personal life is in shambles, and his fare, an elderly woman whose warmth belies her shocking past. Source: Australian Catholics.
There have been two Oscar-winning films about chauffeurs and passengers – Driving Miss Daisy and The Green Book – where the interactions between passenger and driver have bonding and transforming consequences. The English title draws on Driving Miss Daisy. There can be a variety of translations of the French title, 'A Lovely Ride', one suggesting 'A Great Race'. However, given the interactions between the two characters and their self-revelations, one might translate as 'A Good Run' (a good/beautiful run through life, and engaging run for your money).
Set in Paris, this is a brief film – 90 minutes – but audiences might have welcomed even more. The audience shares the taxi ride with Madeleine (Renaud) and her driver, Charles (Boon).
Madeleine is 92 and she needs Charles to drive her to an aged care home because she has had a fall and is unable to stay in her house.
This seems rather ordinary but, just as he listens to Madeleine and her chatting, her questions, Charles becomes beguiled by her. So do we. And more rapidly than Charles does. Madeleine is most engaging and pleasant. She tells Charles something of her life story – and we see it in flashbacks. In fact, as we see her story we are reminded of key elements of 20th century history, France in World War II, American liberation, relationships with American GIs, children, marriage, domestic violence, courts and prisons, the Vietnam war.
Madeleine is able to elicit from Charles something of his story, too, although there are no flashbacks to portray this.
We can guess something of the ending and it is a pleasure to experience it – but, not without tears.
Review by Fr Peter Malone MSC, Jesuit Media via Australian Catholics.
Driving Madeleine / Une Belle Course: Starring Line Renaud, Dany Boon, Alice Isaaz, Jeremie Laheurte. Directed by Christian Carion. 91 minutes. Rated MA (A scene of strong sexual violence)
FULL STORY
Driving Madeleine / Une Bell Cours (Australian Catholics)