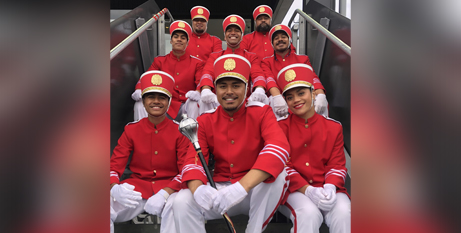 Based on a true story, Red, White and Brass is cheerful entertainment about a group of mates who form a traditional Tongan marching band, just to score tickets to a Rugby World Cup game. Source: Australian Catholics.
This New Zealand film focuses on the Tongan community of Wellington. The title is easily explained – red and white are the colours of the Tongan flag, while brass represents the brass band which performed before the match.
The setting is the Rugby World Cup of 2011. It seems everyone in New Zealand is rugby-mad. But, with Tonga excelling in the matches, it is no wonder that everybody wants to buy tickets for France vs Tonga match as soon as they become available. But, how to pay for them?
The Finau family is central to the film. The father is pastor of the church, a benign man but whose word is the final word. Except, of course, for the mother, the genial matriarch who always gets what she wants. Their son Maka (Foliaki) is exhaustingly exuberant. He commands the show – but is not always reliable, prone to burst out, raising money in the church for the tickets, getting in tangles with members of the congregation and forever making bad judgments. He relies on his rather upwardly mobile dapper friend, Veni (Schuster-Koloamatangi).
It is hard to believe what actually happens. There is a need for a brass band to introduce the Tongan team. Maka rounds up everyone he can to form the band and score tickets to the game.
The moral Maka learns is that there no place for the self-centred individualist, rather, as with the rugby team, achievement is in teamwork.
We always seem to like "the show must go on" films, music, performance, comedy. And here it is, cheerfully, in under 90 minutes.
Review by Fr Peter Malone MSC
Red, White and Brass: Starring John-Paul Foliaki, Dimitrius Schuster-Koloamatangi, Ilaisaane Green, Mikey Falesiu, Haanz Fa'avae-Jackson, Nathanial Lees. Directed by Damon Fepulea'i. 85 minutes. Rated PG (Mild coarse language).
FULL REVIEW
Red, White and Brass (Jesuit Media via Australian Catholics)