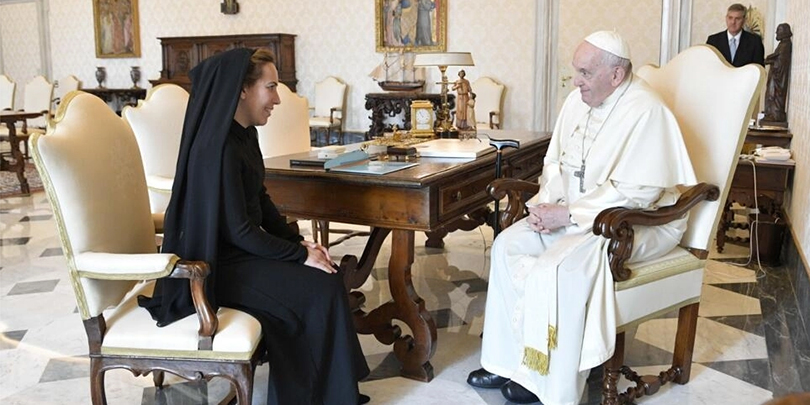 Stella Assange, the wife of imprisoned Australian WikiLeaks founder Julian Assange, has described Pope Francis as a "massive moral protection" following her meeting with him last week. Source: The Tablet.
Francis met Ms Assange and her two children in the Vatican on Friday. Ms Assange said they spoke about her husband's "day-to-day suffering in prison, the cruelty of being away from family" and the strain of not knowing how long he'll be incarcerated.
She told The Tablet that Francis is aware of the "urgency" of the situation, with her husband's legal team expecting his appeal against the extradition to the United States to be heard in coming months.
Mr Assange, who has spent four years in London's Belmarsh prison, faces a sentence of up to 175 years on espionage charges in the US for the military and diplomatic cables he published on WikiLeaks.
"He's been following the case, and he understands the situation is critical," she said of Francis.
"We discussed the way in which political prosecutions use processes to prolong incarceration and that Julian is not convicted of any crime, that he's been in the wing of his prison the longest, but he's there without formally being a prisoner. [Francis] has seen other cases like this before."
Ms Assange, a Catholic, described the Pope as a "moral authority that transcends politics", adding that he "has provided great comfort to our family" and that other Church figures had spoken to Francis about the Assange case.
FULL STORY
Stella Assange tells Francis of husband's "cruel" imprisonment (The Tablet)