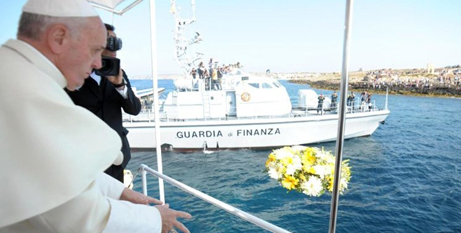 Pope Francis has marked the 10th anniversary of his visit to the Italian island of Lampedusa, reaffirming his support for migrants who take great risks to cross the Mediterranean to enter Europe. Source: Vatican News.
The Pope marked the anniversary of the first pastoral visit of his papacy with a letter to Archbishop Alessandro Damiano of Agrigento.
In his letter, the Pope conveyed his warm greetings to the faithful of the Italian Archdiocese, and recalled that his visit on July 8, 2013, remains relevant even 10 years later.
Thousands of migrants continue to board dinghies and rickety boats at the hands of people smugglers to attempt the Mediterranean crossing to enter Europe.
More than 14,000 people have died or gone missing while making the crossing between Libya and Tunisia to Italy alone since 2014, according to data from the International Organisation for Migration.
Pope Francis expressed his sorrow for the "recurring grave tragedies in the Mediterranean," where countless innocent lives, particularly children, are lost as they search for a safer existence away from the horrors of war and violence.
He described these "silent massacres" as a distressing and deafening cry that should not leave anyone indifferent. The Pope also lamented the inertia of society that seems to have lost the ability to show compassion.
"Ten years have passed," he said, "since the visit I wanted to carry out to the communities of Lampedusa in order to show my support and fatherly closeness to those who have arrived on your shores after painful vicissitudes, at the mercy of the sea."
Reflecting on the anniversary of his visit to Lampedusa, Pope Francis emphasised the urgent need for society to awaken its conscience and reflect upon the question God asked Adam in the Garden of Eden: "Where is your brother?"
He urged everyone to change their attitudes and recognise that every person who knocks on our door is "worthy of love, acceptance, and every care."
"It is my brother who like me has a place on earth to enjoy what surrounds us and to share it in communion," he said.
He urged the Church to engage with those who are forgotten, offering the "healing balm of fraternity and charity to those who bear the wounds of Christ in their own bodies."
In conclusion, the Holy Father encouraged the faithful to overcome fear and instead revitalise Lampedusa with the spiritual richness of the Gospel.
"As I express my gratitude to each of you for your efforts to assist migrants," concluded the Pope, "I entrust to the Lord the lives of those who have died while crossing the sea."
The release of the Pope's letter came as rescuers located a boat with 200 migrants onboard which had been missing off the Canary Islands.
FULL STORY
Pope urges solidarity with migrants on 10th anniversary of Lampedusa visit (By Devin Watkins, Vatican News)
RELATED COVERAGE
Refugees FOUND at sea in 15-day search for boats missing with 300 migrants on board (The Mirror)