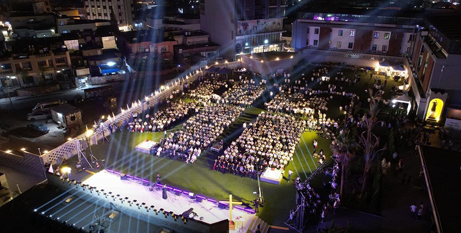 Church leaders say a gathering of almost 2000 young Christians in Iraq has provided hope for the future and encouraged the new generations to stay and invest in their country and in their community. Source: Aid to the Church in Need.
More than 1800 young Christians from seven archdioceses and more than 60 parishes gathered in Ankawa from June 29 to July 1. The Ankawa Youth Meeting (AYM) brought together young people and religious leaders from the Chaldean Catholic Church, the largest Christian Church in Iraq.
The youth festival staged near Erbil in the Kurdish north of Iraq, included Eucharistic celebrations, confession, retreats, seminars, debates, catechesis and other forms of Christian education.
Erbil became a safe haven for thousands of Christians fleeing persecution almost a decade ago when Islamic fundamentalists with the Islamic State occupied Mosul and overran dozens of Christian towns and villages in the Nineveh Plains.
"Christians in Iraq have been facing many challenges since ISIS and before. They look to the Church to guide them and help build their future through pastoral work and building structures: we now have six churches, a seminary, some catechist centres, four schools, a university, and a hospital", said Archbishop Bashar Warda, of Erbil, in a message sent to Aid to the Church in Need, which helped fund the gathering.
"The young are our future. Our mission is to give the youth hope and purpose in their lives in their homeland, nourishing their faith and providing them with skills that help them overcome the challenges they face.
"What we aspire to is a generation of conscious youth who will become part of the presence of the Church in Iraq. The Ankawa Youth Meeting is a big part of realising this hope. It builds faith, friendships, removes isolation and impacts their lives and their families."
FULL STORY
Looking for leaders to help rebuild the Church in Iraq (Aid to the Church in Need)