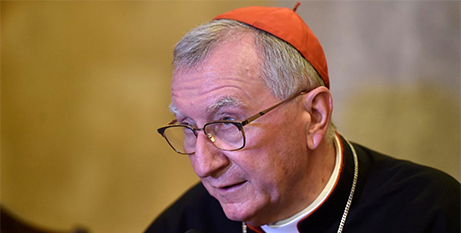 Pope Francis will recognise the transfer of a bishop in China earlier this year without his knowledge or approval despite the fact that it violates the terms of a 2018 provisional agreement on episcopal appointments. Source: Crux.
In an interview accompanying the announcement on Saturday, Vatican Secretary of State Italian Cardinal Pietro Parolin suggested that a "stable liaison office" between the Holy See and China be opened, saying such a move would be "extremely helpful" for ongoing dialogue. It was one of Cardinal Parolin's strongest statements to date about the idea of launching formal diplomatic relations.
So far this year, Chinese authorities have twice violated the terms of the controversial 2018 agreement, with the latest being their decision in April to transfer Bishop Shen Bin of the Diocese of Haimen (Jiangsu) to the Diocese of Shanghai, which had been vacant for 10 years, without the Vatican's prior knowledge or approval.
A similar incident occurred in November 2022, when Bishop John Peng Weizhao was installed as an auxiliary bishop for the Diocese of Jiangxi, an ecclesiastic territory recognised by Chinese authorities, but not by the Vatican.
In an interview with Vatican News, Cardinal Parolin said the reason the Vatican waited so long to make any public comment on the Shanghai situation was in order to "carefully evaluate" both the pastoral situation of the Diocese of Shanghai, "which had been without a bishop for too long," and the decision itself by the Chinese to transfer Bishop Shen Bin.
Ultimately, he said, Pope Francis decided to accept the transfer "in view of the greater good of the diocese and the fruitful exercise" of Bishop Shen Bin's ministry as bishop.
FULL STORY
Pope accepts transfer of Chinese bishop despite violation of 2018 deal (By Elise Ann Allen, Crux)
RELATED COVERAGE
Cardinal Parolin: Pope appoints Shanghai bishop for good of diocese and dialogue (Vatican News)