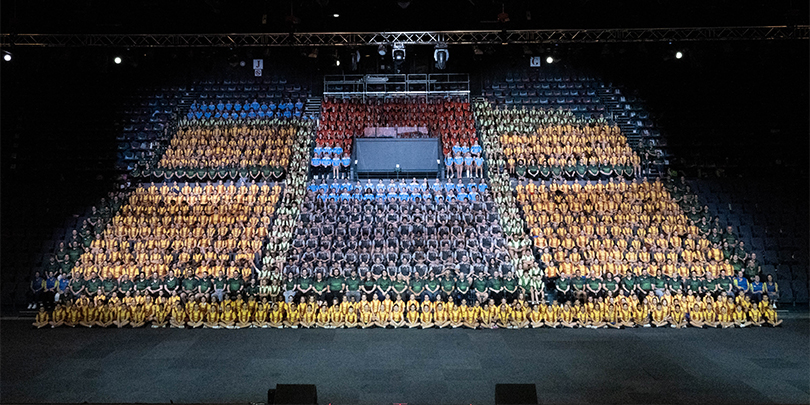 More than 850 talented Catholic school students from North Queensland converged at the Townsville Entertainment and Convention Centre yesterday to kick off the 2023 Mulkadee Youth Arts Festival. Source: Townsville Catholic Education.
Now in its 18th year, this event offers students a week-long program of immersive workshops led by local industry professionals.
Spanning various disciplines, the Mulkadee program boasts intensive workshops in choir, dance drama, strings, guitar, band performances and audiovisual media.
Townsville Catholic Education executive director Jacqui Francis emphasised the profound impact of the festival on students in the diocese.
"Mulkadee is a unique learning experience for all involved, providing our students and teaching staff who have a passion for arts to come together to collaborate, develop their skills, and create unforgettable opportunities," Ms Francis said.
"For many of the students from our rural and remote locations, the opportunity to workshop, rehearse and perform at a venue such as the Townsville Entertainment and Convention Centre is a unique experience in itself."
The week-long festival will culminate in a performance on Friday, when the students take the stage to perform a retelling of the beloved classic, Robin Hood.
Originally stemming from annual music camps held on Magnetic Island, the Mulkadee Youth Arts Festival has evolved to become an all-encompassing celebration of the arts. Recognising the need to enhance and expand the artistic offerings, Townsville Catholic Education transformed the event into a concert-style extravaganza, debuting in 2006 at the Riverway Arts Centre.
FULL STORY
Students set to shine at the 18th annual Mulkadee Youth Arts Festival (Townsville Catholic Education)