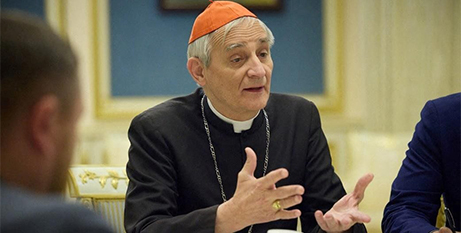 Cardinal Matteo Zuppi, the Italian prelate tasked by Pope Francis to head a peace mission between Ukraine and Russia, is in the United States this week to discuss the conflict. Source: CNA.
The announcement by the Vatican was followed by confirmation from the White House that Cardinal Zuppi will meet President Joe Biden to discuss issues related to the war in Ukraine.
The cardinal's three-day visit comes only weeks after the Biden Administration announced it was sending an additional $US800 million in weapons to aid Ukraine's counteroffensive – including morally problematic "cluster bombs" that have been banned by most countries, including the Holy See.
Cardinal Zuppi, who has already visited both Ukraine and Russia, will be in the US capital, Washington DC, until tomorrow and is accompanied by an official from the Vatican's Secretariat of State.
"The visit will take place in the context of the peace promotion mission in Ukraine and aims to exchange ideas and views on the current tragic situation and to support humanitarian initiatives to alleviate the suffering of the most affected and most fragile people, especially children," read the Vatican statement announcing Cardinal Zuppi's visit.
The White House issued a statement yesterday announcing the issues on the agenda for the meeting between Cardinal Zuppi and Mr Biden.
"Cardinal Zuppi is travelling to Washington at the request of Pope Francis. President Biden and Cardinal Zuppi will discuss the widespread suffering caused by Russia's brutal war in Ukraine. They will also discuss efforts by the United States and Holy See to provide humanitarian aid to those affected, and the Papal See's focus on repatriating Ukrainian children forcibly deported by Russian officials," reads the statement from White House Press Secretary Karine Jean-Pierre.
FULL STORY
Cardinal Zuppi to meet with President Biden to discuss Ukraine (By Jonathan Liedl, CNA)